Effective March 2020 a Branch STEM Committee was approved by our board to develop programs that provide opportunities for middle school girls to engage in STEM activities with the goal of increasing the participation of women in the STEM disciplines.
Stay tuned to learn about the programs that this committee will be developing for STEM activities.  Preliminary discussions are currently focused on initial efforts to offer a one-day Tech Savvy conference using the AAUW model.

---
The STEM Gap: Women and Girls in Science, Technology, Engineering and Math
Stay current with the latest STEM Gap research and data posted on the AAUW National website using this link:  https://www.aauw.org/resources/research/the-stem-gap/
---
Pikes Peak Regional Science Fair 2020
AAUW Colorado Springs Branch once again awarded two female scientists for their efforts at the Pikes Regional Science Fair.  Award winners (pictured below) are eight-grader, Ava Connelly, of The Classical Academy and sophomore, Kimberly Jones, of Miami-Yoder High School. The winners each received a $25 gift certificate to Barnes and Noble.
Miss Connelly's experiment, entitled "Electricity-Free Emergency", investigated the best design criteria for keeping babies in incubators warm during a power outage.
In "Phosphate Concentrate Change in the Colorado Arkansas River – 209 miles," Miss Jones investigated the phosphate concentrations present in the Arkansas River from Leadville, CO to Rocky Ford, CO.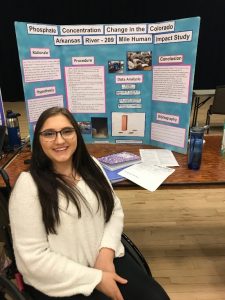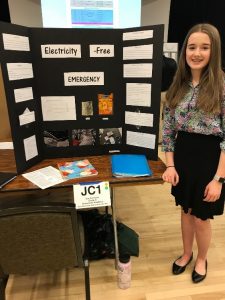 Here's a link to read more about their science projects: Pikes Peak Regional Science Fair 2020
---
Nationally AAUW has been a leader in efforts to promote women in STEM since its founding in 1881. Through fellowships, programs, advocacy, and research, AAUW has inspired hundreds of thousands of girls to pursue science and math and helped thousands of women become scientists, engineers, and mathematicians.
AAUW's 2010 research report, Why So Few? Women in Science, Technology, Engineering, and Mathematics, sparked nationwide interest in the shortage of women in STEM, leading to new initiatives in schools, colleges,and government. Indeed, significant progress has been made in fields such as biology and chemistry; yet in engineering and computing, women remain a distinct minority. 
Link to read the Executive Summary:   solving-the-equation-quick-facts-nsa
Link to download the full report: https://www.aauw.org/resources/research/the-stem-gap/