AAUW (American Association of University Women) was founded in 1881 and currently has over 100,000 members supporting its mission to advance equity for women and girls through advocacy, education, and research.  AAUW Colorado Springs Branch, established in 1915, currently has over 250 members and is the largest AAUW Branch in Colorado.
Our three focus areas for advancing gender equity for women and girls: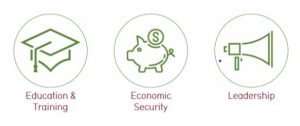 We welcome you to join us for education, community programs, legislative advocacy, research and scholarships for women.  By joining AAUW, you belong to a community that breaks through educational and economic barriers so all women have a fair chance.
We encourage prospective members to click on the Interest Groups tab (on the toolbar above) to see our current Interest Groups calendar and descriptions.  Our Interest Groups provide members the opportunity to share interests, hobbies and to learn and network. 
See the latest AAUW Colorado Springs Branch brochure: AAUW Brochure COS 6-30-2019
See our Branch Newsletters:  https://coloradosprings-co.aauw.net/newsletter/
We welcome new members!  Give Membership VP Melanie Hudson a call at 719-205-7639 or e-mail membership-V-P.
 To obtain a "big picture" of AAUW, also visit:
Information for Branch Members:
Latest online Branch Directory for members – (click on About tab  – Members Only page – use password)
Latest online Interest Group (IG) Calendar, IG Chair contact information and IG descriptions  for members – (click on About tab – Members Only page – use password)
---
»

2019/2020 BRANCH MEETINGS – PROGRAMS

«
Programs are open to the public and guests are welcome!
»

September 28, 2019, Sat.  8:30 AM – 12:30 PM

«


WELCOME COFFEE

Breakfast-Free /No charge –

Bring Friends-Meet New People- Join AAUW




Learn about our many Interest Groups/Activities




Location:

First Methodist Church, 420 N Nevada Ave.


Program:

  Patricia Foley Hinnen, CEO/Guest Speaker
Capital Sisters International


Please RSVP by September 21st to:




Jeanne Marsh, C:719-229-1708; H:719-590-7237




jmarsh@pcisys.net


Click on the link below for the latest information:
Welcome Coffee 2019 v update
»

October 26, 2019, Sat. 8:30 AM – 12:00 PM

«


AUTHORS DAY

Location:

Colorado Shrine Club, 6 South 33rd St.
Click on the link below for the latest information:
AAUW COS Authors Day 2019 Save the Date

More programs for 2019/2020 will be posted as soon as details are finalized!
---
SEE THE LATEST AAUW COLORADO STATE INFORMATION
Fall Leadership Conference
August 23 – 24, 2019
Holiday Inn Denver Lakewood
7390 W. Hampden Ave. 80227
The Fall Leadership Conference is coming up August 23-24, 2019. This is an excellent time for branch/state leaders and all members to meet and network. This year's focus will be on the Strategic Plan. We will be examining ways for the state and branches to accomplish the Strategic Plan.  Early Registration Deadline: August 3, 2019 (Reduced fees)


Final Registration Deadline: August 10, 2019

  Click on the link below which will take you to the state website to register:  https://aauw-co.aauw.net/
---

Meet the challenge!  We need your help to reach the intermediate goal of getting 100,000 women trained in salary negotiation by August 23, 2019. 

Meeting this challenge will qualify AAUW to receive part of the grant funds from the Coca-Cola Foundation supporting this program.  It is also an important milestone to reach the final goal for 10 million women to be trained in salary negotiation by 2022.
We are asking every Branch member to help meet the 100,000 challenge!  By August 23rd please take the Work Smart online course and get your friends and colleagues to take it too.  If you're saying "I'm not looking for a job, I'm retired" this course will help you become an AAUW Work Smart advocate.  You can help others by sharing our mission for Pay Equity and Closing the Gender Pay Gap with relatives, friends and colleagues.
Click on this link to start your free online salary negotiation workshop: http://salary.aauw.org
---
2019 AAUW Colorado Springs Branch Names Honored Recipients
The Names Honored award is an opportunity for the organization to recognize outstanding Branch members.  We have many active members who bring their time and talent to fulfilling the AAUW mission and for that we extend a big thank you.  Your continuing commitment makes our organization successful and rewarding.  As in the past with so many wonderful, accomplished women in our organization, we couldn't narrow our selection down to just one, so again this year we're honoring 2 outstanding women – Paula Munger and Nedra Engelson.
Click on the links below to learn more about their AAUW service and accomplishments and see the listing of past recipients of this important award!
2019 AAUW Colorado Springs Branch Names Honored Recipients
AAUW Colorado Springs Branch Names Honored Recipients as of July 2019
---
Elsewhere on This Site:

Minutes of Board meetings are available on the Members Only page
About Us page – See how our Branch supports the AAUW mission and our growing lists of honorees
Branch Internal Communications Procedure is posted on the Members Only page along with By-laws and Working Policies.
---
For comments and feedback about this website, drop a line to the Webmaster.
---
                         Website masthead photo by William J. Dagendesh, Pikes Peak Newspapers
---