Like all of you, we at AAUW are deeply concerned about the spread and the impact of COVID-19 on the nation and the world. As you know, the effects from a widespread health issue can be severely crippling economically, too.  We are postponing our April and May programs to ensure the safety of our community.  We will post details when these are rescheduled.
Members, as you practice social-distancing, please take a moment to read the inspiring essay from a local 5th grader who will be our guest at our StartSmart/WorkSmart workshop when rescheduled.  Her message calls for pay equity and a shining example of the young women in the pipepline to assume future leadership roles.  Here are the links to her cover letter and essay:    Rozi letter                  Rozi essay v2

Attention Interest Group Chairs:  Please click on the following link for additional information: Message for Interest Group Chairs – meetings and events – as of March 15, 2020
Attention Applicants: 2020-2021 Scholarships Awards are moving forward!
Use this link for application & details:Scholarship-Application-2020-21 v2
DEADLINE: Scholarship applicants who submit all application materials by
MARCH 30, 2020 will be given first priority, however, due to the pandemic chaos,
we will be flexible with this deadline.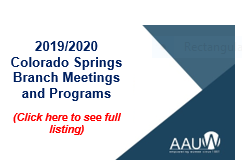 Programs are open to the public and guests are welcome!  Check out the programs and register.  Also see details of upcoming programs listed in the middle of this page (below).

---

Welcome! AAUW (American Association of University Women) was founded in 1881 and currently has over 170,000 members and supporters working to advance equity for women and girls through advocacy, education, and research.  Click on above graphic to read more about who we are and our Strategic Plan.
AAUW Colorado Springs Branch, established in 1915, currently has over 250 members and is the largest AAUW Branch in Colorado.  We welcome you to join us for education, community programs, legislative advocacy, research and scholarships for women. 

By joining AAUW, you belong to a community that breaks through educational and economic barriers so all women have a fair chance. 
Meet the challenge!  Get paid what you're worth.  Take the AAUW Work Smart Online, a free one-hour course now!  AAUW's goal is for 10 million women to be trained in salary negotiation by 2022.  Click on Get Started Now (above) to take this important course!
We encourage prospective members to click on the Interest Groups tab (on the toolbar above) to see our current Interest Groups calendar and descriptions.  Our Interest Groups provide members the opportunity to share interests, hobbies and to learn and network.  See the latest AAUW Colorado Springs Branch brochure: AAUW Brochure COS 6-30-2019

We welcome new members!  Give Membership VP Melanie Hudson a call at 719-205-7639 or e-mail membership-V-P.

---
LATEST BRANCH NEWSLETTER

 
Stay informed – read about recent and future branch meetings and events:   March 2020 Final v2
Check out our new webpage for STEM activities- click on STEM – toolbar above.
Stay tuned for our April 2020 newsletter for details on renewing your AAUW membership! (Click on the graphic below for a preview of this year's renewal process.)


---
---
2019 Authors Day event recognizes local authors
Click on this link to read about our successful 2019 Authors Day fundraiser for local scholarships:   President's Message on 2019 Authors Day Fundraiser

---
INFORMATION FOR BRANCH MEMBERS
January 24, 2020 Update on 501(c)(3) status:

  We are very pleased to announce that we received IRS approval of 501(c)(3) status. This tax-exempt status affords our members and branch many opportunities that we look forward to implementing.  We will continue to keep you informed of our progress.
Follow the progress of our implementation of 501(c)(3) nonprofit (tax-exempt) status.  Click on these links for the latest information to learn and stay informed.                         FAQs of Changing to 501(c)(3) Nonprofit Status January 24 2020 update                                         501(c)3 Overview for Jan 21 2020 board update
As part of the implementation of our new 501(c)(3) nonprofit (tax-exempt) status, our branch joined the Colorado Nonprofit Association.  This organization offers many value-added services, expert advice, training and opportunities to network with other nonprofit organizations.  Click on the graphic below to access their website. 
Latest online Branch Directory for members – (click on Branch Member Directory on toolbar above – use password)
Latest online Interest Group (IG) Calendar, IG Chair contact information and IG descriptions  for members – (click on Members Only on toolbar above – use password)
Minutes of Board meetings are available on the Members Only page (use password)
---
UPCOMING BRANCH MEETINGS AND PROGRAMS

April 18, 2020  9:30 AM to Noon
Pay Equity Starts With You—$tart$mart Work$mart Workshop
Let AAUW Lead the Way
MEETING IS POSTPONED

---
May 9, 2020   11:00 AM – 1:30 PM
Scholarship Award Luncheon   
Annual Meeting: Election of officers – Bylaws update for 501(c)(3) tax-exempt status
Antlers Hotel, Summit Room, 4 S. Cascade Ave
MEETING IS POSTPONED
(Details on refunds will be sent to those who have paid.)
---
SEE THE LATEST AAUW COLORADO STATE INFORMATION

NOTICE REGARDING REGIONAL CONFERENCE
The COVID-19 virus outbreak has everyone concerned, including the AAUW of Colorado Executive Committee. The Rocky Mountain Regional Conference is scheduled for June 19-21, 2020. At this time, we do not know if the conference will be held in June due to uncertainties associated with the virus and actions being taken by the State of Colorado and the Federal Government.
We have been working closely with the Hilton Hotel in Fort Collins. They recommend that we address the conference in early May and make a decision then based on latest State and Federal guidelines.
We are hopeful that the decision regarding the conference will be resolved in May.
Read the latest State Bulletin: https://mailchi.mp/b275262d9f38/aauw-of-colorado-winter-20192020-bulletin
March 31, 2020: Equal Pay Day
April 1, 2020: State NCCWSL Scholarship Applications Due     
June 19-21, 2020: Rocky Mountain Regional Conference (See Save the Date below)
September 11-12, 2020: Fall Leadership Conference, Antlers Hotel, Colorado Springs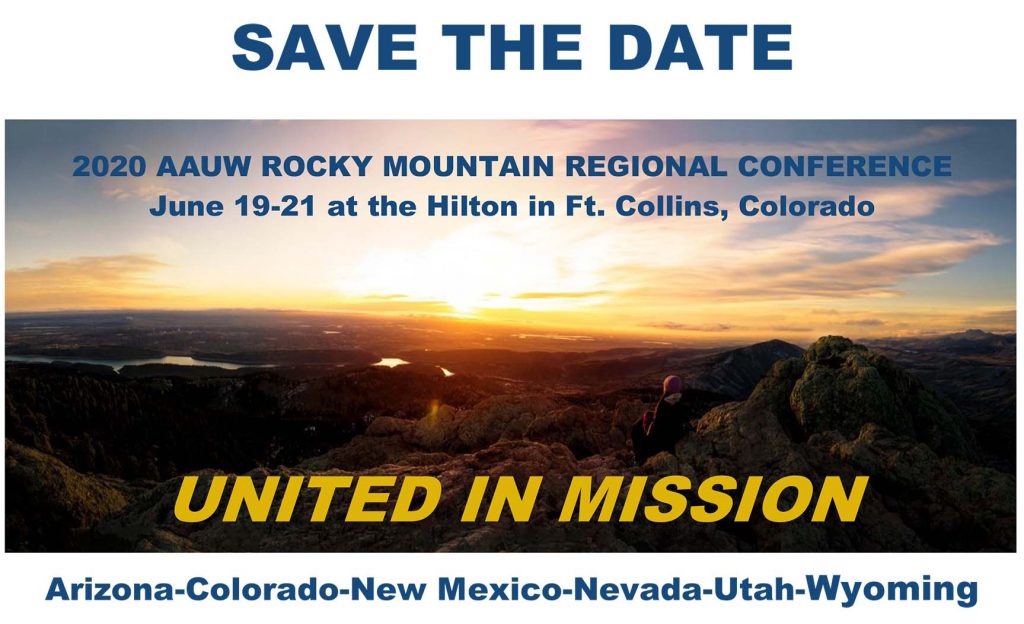 For comments and feedback about this website, drop a line to the Webmaster.
AAUW Colorado Springs Branch (CO) is a 501(c)(3) charity – effective 12/20/2019
Donations are tax deductible
Tax ID# 84-3789955

 Website masthead photo by William J. Dagendesh, Pikes Peak Newspapers