AAUW (American Association of University Women) was founded in 1881 and currently has over 170,000 members and supporters working to advance equity for women and girls through advocacy, education, and research.  Click on above graphic to read more about who we are and our Strategic Plan.
AAUW Colorado Springs Branch, established in 1915, currently has over 250 members and is the largest AAUW Branch in Colorado.  We welcome you to join us for education, community programs, legislative advocacy, research and scholarships for women. 

By joining AAUW, you belong to a community that breaks through educational and economic barriers so all women have a fair chance. 
Meet the challenge!  Get paid what you're worth.  Take the AAUW Work Smart Online, a free one-hour course now!  AAUW's goal is for 10 million women to be trained in salary negotiation by 2022.  Click on Get Started Now (above) to take this important course!
We encourage prospective members to click on the Interest Groups tab (on the toolbar above) to see our current Interest Groups calendar and descriptions.  Our Interest Groups provide members the opportunity to share interests, hobbies and to learn and network.
See the latest AAUW Colorado Springs Branch brochure: AAUW Brochure COS 6-30-2019
See our Branch Newsletters:  https://coloradosprings-co.aauw.net/newsletter/
We welcome new members!  Give Membership VP Melanie Hudson a call at 719-205-7639 or e-mail membership-V-P.

---
2019 Authors Day event recognizes local authors
Click on this link to read about our successful 2019 Authors Day event: 
 President's Message on 2019 Authors Day Fundraiser
Click on this link AAUW Authors Day to read the news coverage on
2019 Annual Authors Day Fundraiser for scholarships awarded to local women.
(William J. Dagendesh/Woodmen Edition  Nov 4, 2019)
Speakers at Nov. 16, 2019 Branch meeting:  Janet Brugger, President of Colorado Black Chamber of Commerce; Aikta Marcourlier, Executive Director of Pikes Peak Small Business Development Center; Mundi Ross, co-owner of Almagre Venue and Bar; Chelsea Gaylord, Senior Economic Development Specialist with the City of Colorado Springs; Traci Marquez, CEO of Pikes Peak Workforce Center; Catherine Duarte, Senior Analyst of the City of Colorado Springs Community Development Division.
Nov branch meeting slides 1 – Viewing Colorado Springs Through a Woman's Eyes
Nov branch meeting slides 2 – Viewing Colorado Springs Through a Woman's Eyes
INFORMATION FOR BRANCH MEMBERS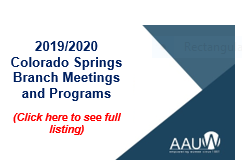 Programs are open to the public and guests are welcome!  Additional details including any ticket price will be posted when finalized so please save these dates.

---
December 7, 2019  11:30 AM – 1:30 PM
RSVP deadline Nov. 30 to:  jmarsh@pcisys.net
Holiday Luncheon with Children's Chorale
Cost:  $33.00 per person
Briarhurst Manor 404 Manitou Ave., Manitou Springs
See details here: Colorado Springs Branch 2019 Holiday Program
Pay online – use this Eventbrite link: https://www.eventbrite.com/e/aauw-holiday-luncheon-tickets-73655322051
---

January 18, 2020, Saturday   9:30 AM – 11:30 AM
The AAUW Colorado Springs Branch Public Policy committee members have developed a program to address the means by which voter suppression is manifested in our election process.  Deb Walker, Executive Director Citizen's Project, will lead the program which will include active interaction.
Colorado Technical University (CTU) – 4435 N. Chestnut St. off Garden of the Gods Rd.
Click on the link below for the latest information & register – it's free to attend:
https://www.eventbrite.com/e/voter-suppression-in-colorado-what-you-need-to-know-aauw-branch-meeting-tickets-82050552411

---
SEE THE LATEST AAUW COLORADO STATE INFORMATION
Click the links below to:
Read the latest State Bulletin: https://mailchi.mp/b275262d9f38/aauw-of-colorado-winter-20192020-bulletin
See the latest information on State events:
January 15, 2020, Legacy in Leadership Award Nominations Deadline
February 1, 2020, Public Policy Day, Holiday Inn Lakewood,  https://aauw-co.aauw.net/files/2019/10/Pulic-Policy-Day-2020-Summary-Information.pdf
March 15, 2020, Sanderson Young Leader Award Nominations Deadline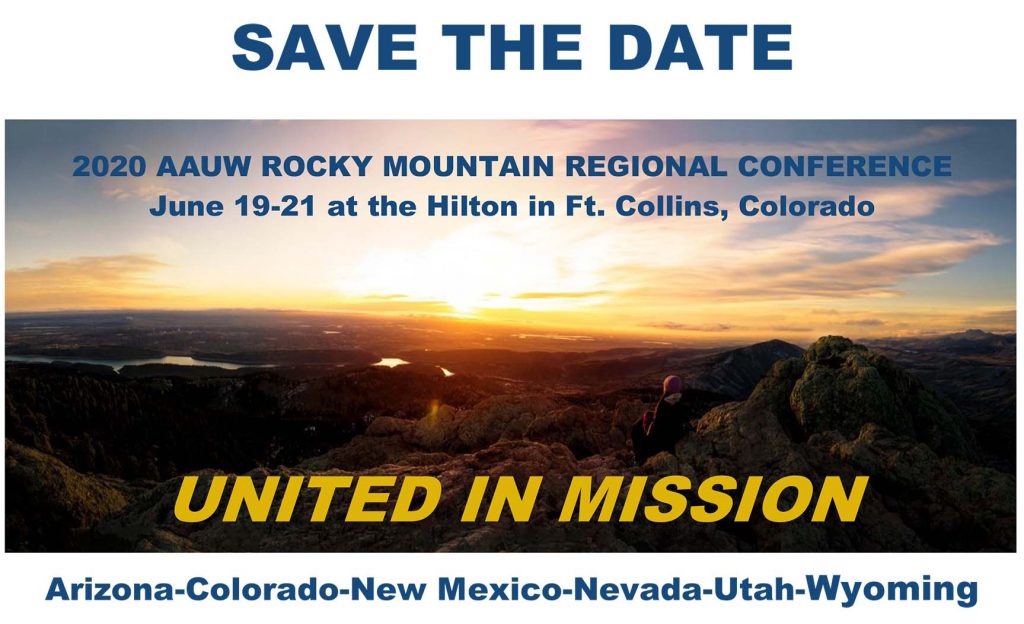 For comments and feedback about this website, drop a line to the Webmaster.
                         Website masthead photo by William J. Dagendesh, Pikes Peak Newspapers