Spotlight on Scholarships and Scholars
Scholarship Chair: 

Mo Sigler,

 MoSigler 24@gmail.com
Given the mission of AAUW, to advance gender equity for women and girls through research, education, and advocacy, the scholarship program offered by the Colorado Springs branch is one of the best methods we have for meeting that mission.

For the 2021-2022 academic year, eight women received scholarships to attend Pikes Peak Community College (PPCC) or the University of Colorado- Colorado Springs (UCCS).

As a result of the enormous effort by the Fundraising Committee to generate scholarship funds in the middle of the pandemic, and the generosity of our AAUW members, our branch awarded five women $2,000 scholarships for this academic year. I especially wish to acknowledge Kate Meyer-Olson, Pip Bodkin, and Pam Maier for the hours and days they invested in learning how
to conduct an online auction and then producing the auction. You worked miracles last year!

Three additional women are benefiting from the Addie Mae Memorial Scholarship which was created in memory of Paula and Dave Munger's great niece who passed away in September 2019 at the age of 5. The intent of the memorial was to offer scholarships for 2020-2021, however, when Addie Mae's family participated in our September 2020 Zoom Welcome Meeting, they were so moved by the scholarship recipients, they contributed more funding for 2021-2022 scholarships. 2021-2022 is the last year that our branch will award Addie Mae Memorial Scholarships. Each of the three Addie Mae Memorial Scholars are receiving a $2,500 scholarship.

Serving on the Scholarship Committee last year were AAUW members Paula Munger, Char Gagne, Marilyn Frydrych, Cindy Costanza, Phyllis Sperber, and Mo Sigler serving as chair. Each member spent hours reading and evaluating scholarship applications based on academic performance, financial need, a personal essay, and a recommendation. Each year, we like to add one or two new members to the scholarship committee. For those who may be interested, please contact Mo Sigler, chair.

To be considered for scholarships, each applicant must have completed at least 36 college credits, earned at least a 3.0 GPA, and be enrolled at PPCC or UCCS. All our 2021-2022 scholarship recipients met and exceeded these requirements. In fact, all their cumulative GPAs are between a 3.8-4.0. You are invited to get to know our scholarship recipients from the short bios below
Jessica Bangs    After pursuing several majors, including visual arts, Jessica found her niche in marketing with a minor in French. Her background in visual arts has given her an acuity for page layout as well as an understanding of how to use imagery, color, and typography to create an effective advertisement. In December, she will be graduating with a Bachelors of Innovation, with a core in Globalization from the University of Colorado-Colorado Springs. Throughout her college experience, she has earned a 3.88 GPA.  For more than two years, Jessica has been the Marketing Coordinator, a student employee position, for the Department of Student Life. Her supervisor shared that Jessica embodies the essence of student leadership, bringing synergy, intelligence, and energy to her position. Her dream is to establish a career as a creative director at an advertising agency.
  Kandyse Patterson   As a military spouse and a mom of two children, Kandyse's pursuit of a college degree was delayed for 15 years until the spring of 2018. After moving to Colorado, she dove into her academic studies as a full-time student between both PPCC and UCCS. She maintains a 4.0 GPA.  In Kandyse's personal statement for the scholarship application, her enthusiasm for drug-resistant microorganisms was evident! Her husband is enrolled in a Public Health graduate program and their conversations about his curriculum triggered her desire to pursue science with plans to enroll in a Medicinal Chemistry graduate program. Ultimately, she would love to research alternatives to traditional antibiotic therapy such as quorum sensing.
  Victoria Scott  As one gets to know Victoria, there is no doubt that she is a survivor and a woman of action! She is a survivor of foster care, addiction, abusive relationships, and violent crime. She moved to Colorado Springs to get a fresh start and immediately began her recovery process by moving into a sober living home and studying for her GED. Eventually, she became a manager of the sober living home. Immediately after completing her GED, she enrolled at Pikes Peak Community College where she has earned a 3.98 cumulative GPA while also working full time.
Victoria is the first in her family to attend college where she is studying business. Her professor shared that Victoria "is a confident individual who has identified her life goals and drives toward them with tremendous vigor."
 Jodi Vasquez  Throughout Jodi's education, she thrived in math. Unfortunately, her bipolar disorder contributed to a life of destruction and chaos. Her marriage in 2011 created a stabilizing environment for her. Jodi became employed to reset make-up displays in retail stores. Her ability to create solutions for poorly designed components caught the attention of the company's corporate offices as well the make-up brands. Promotions soon followed, and she had the opportunity to work with the display designers. Once learning that the designers had degrees in mechanical engineering, Jodi was determined to pursue a degree in mechanical engineering.  Jodi's statistics professor shared that she "exhibits a vibrant intellectual intensity and curiosity. She wants to know the 'why,' not just the 'how.'" Jodi earned 3.67 GPA at PPCC.
    Ana Ventura   As a foster mom for the last ten years, Ana observed an increase in cases of trauma, abuse, and neglect. Children with many medical issues were being placed in regular foster homes. While Ana has her Certified Nursing Aide license, she realized she needed more medical education to work more effectively with these foster children. Ana enrolled in the PPCC Pre-Nursing program where she maintains a 4.0 GPA. Her goal is to acquire her Register Nurse license through UCCS.  Besides her studies, Ana keeps busy with her two high school and college-aged sons, and volunteers at the Ronald McDonald House and The Fostering Hope Foundation that supports foster families. Her plans to volunteer at The Children's Hospital were put on hold due to the COVID-19 pandemic.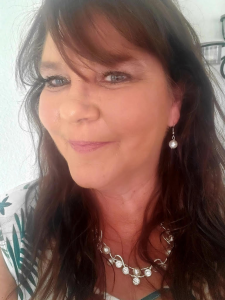 Cynthia Wright   Cynthia is currently enrolled in the Bachelor of Applied Science Emergency Management program at Pikes Peak Community College where she has established a 3.64 GPA. She comes to this program after years of experience as an Emergency Medical Technician, a Paramedic, and as a Licensed Practical Nurse. She wants to pave the way for women in a field with mostly men in leadership positions.
As a single mother with two children, Cynthia knows the financial and logistical difficulties of raising a family, working, and taking college classes. At one point, after a fall and surgery, she found herself unable to work, which eventually led to being homeless with her two children. Through perseverance and determination, she is creating a life and career where she will be helping others and saving lives.
Addie Mae Memorial Scholarship Recipients
Juliette Hayes is a traditional age college student attending Pikes Peak Community College studying Elementary Education. Prior to her selection for this scholarship, she had completed three semesters at PPCC as a full-time student, earning a 3.84 cumulative GPA. Her family of six moved to Monument for Juliette's junior year of high school. Despite being new to the school and city, Juliette was honored with the Ranger of Character award at her high school.  Juliette's passion for elementary education was inspired by her experience as a children's and youth ministry intern as well as by her experience working part-time at the YMCA with children's programs.
Anna Duerst    The possibility of pursuing a college degree seemed insurmountable to Anna given the lack of a formal education throughout her childhood. Her perspective began to change when she moved to Colorado in 2013 for a full-time voluntary service position at New Horizons Ministries in Canon City, CO for three and a half years. Anna volunteered as a part-time, live-in mentor for women exiting incarceration. Helping them process and understand their own journeys affirmed her decision to pursue a career in counseling.  Anna will graduate Fall 2020 from Pikes Peak Community College with her Associate degree and will transfer to University of Colorado, Colorado Springs for Spring 2021. At the time she was selected for this scholarship, Anna had maintained a 4.0 GPA for all of her semesters.