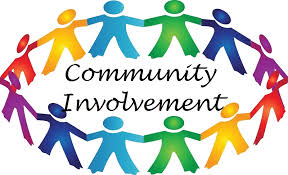 INTERESTED IN ORGANIZING A BRANCH COMMUNITY SERVICE PROJECT?
HERE'S THE APPROVAL PROCESS TO FOLLOW
In response to a growing interest from our committees and interest groups to initiate and support Branch community service projects and collaborations with other organizations, our board recently approved guidelines and an application process to facilitate these activities. Our Branch recognizes the value of collaborating with other organizations, nonprofit and otherwise, to raise awareness of issues and common objectives to advance the AAUW mission.
Before you start planning your community service project or collaboration, please take a moment to review our guidelines.  These guidelines are intended to serve as a one-stop reference which consolidates AAUW National guidance and policies regarding these matters that we must comply with.  AAUW COS Branch is a 501(c)(3) charity and must also follow IRS regulations that pertain to permissible use and donations of Branch funds.  Click on these links for this information:
AAUW-COS-Branch-Guidelines-version-1-11-2021.pdf
AAUW COS Community Service proposal form version 2 9 2021
This approval process provides an opportunity for projects and collaborations to be brought to the Branch Board for the required review, discussion, and approval to ensure that they:
Clearly advance AAUW mission, purpose and policies and are non-partisan and voluntary
Involve no conflict of interest (i.e., the Branch members relationship to the organization)
Comply with IRS rules and regulations (i.e., tax status of organization; are donors seeking personal tax deductions) and, if any Branch monies are involved, assess compliance requirements. In general, the IRS prohibits financial donations (funds and other donations of material value, like stock, property, art, etc.) that are given by a 501(c)(3) organization to an organization that is not a 501(c)(3) organization
Are not a solicitation of funds (fundraiser) to donate funds to any organization other than AAUW
The proposal form is in word format.  Download the form, save it on your computer in the name of your project and fill in the requested information.  Follow the instructions at the bottom of the proposal form to submit (email) your completed proposal.
We are optimistic that 2021 will bring opportunities for our branch members to meet, collaborate and enjoy branch activities such as these in person to advance the AAUW Mission again safely. Here are a few links to see community service projects of other AAUW branches: AAUW Fort Collins https://fortcollins-co.aauw.net/projects/community/, AAUW Littleton https://littleton-co.aauw.net/, and AAUW Poughkeepsie AAUW Poughkeepsie Member Booklet.